March Low Cost Vaccination Clinics 2021
Second Chance for Pets will be hosting low cost rabies vaccinations clinics in March. Services are not limited to DeWitt County residents and include rabies and distemper vaccinations as well as microchips for dogs and cats.
Pending date announcements for April 2021 if in Covid Phase 2
*No appointment necessary. Please have dogs leashed and cats in a carrier.
Dog & Cat Services
$10 - Rabies Vaccinations - 1 year
$13 - Rabies Vaccinations - 3 year (Bring proof of last vaccination if wanting 3 year)
$10 - Distemper/Parvo/Corona combo
$12 - Microchip ($10.99 registration optional)
$3 - Nail trim
DeWitt County Rabies Tag Registration Fees
$10 - 1 year altered
$20 - 1 year unaltered
$23 - 3 year altered
$55 - 3 year unaltered
Monthly Spay / Neuter Clinics
Second Chance for Pets will be transporting dogs and cats to the Animal Protective League in Springfield, Illinois for low-cost spay and neuter clinics in 2020. If you have a pet that you would like to have spayed or neutered for a very low cost. Vaccines and other services available during your pets procedure listed below.
Please call us at 217-935-3488 (voice message system) to get on the transport.
Cancellations must be notified 24 hours in advance.
Upcoming Dates for 2021
January 20
February 17
March 17
April 14 *No Transport Available
May 12 *Transport Cancelled
Jun 16
July 14
August 11
Transport Details
Please register by calling us 217-935-3488 (voice message system) ahead of time to reserve your spot.
We load at 1502 E. Main St. in Clinton (South end of the building) at 6:45am sharp. Parking located next door at Hulvey Plumbing parking lot. Your pets are then transported to our Partner Clinic located in Springfield where they are health evaluated before they receive their requested surgery and services.
Pets will be returned to the same location in Clinton the following morning at 8:15 am. Please be there to pick up your pet and your paperwork. Payment for services is due at the time of drop off. We accept cash (exact change please).
*Bordetella (kennel cough) vaccine is suggested for all dogs prior to transport.
Our monthly low-cost clinics are only available if you are having your animal sterilized. You cannot obtain the discounted shots or other services without having your pet fixed to stop the over-population problem! 
Service Pricing for Dogs
Spay/Neuter under 60lbs
$75
Spay/Neuter over 60lbs
$100
Rabies (1 year)
$10
Rabies (3 year) *Bring proof of last vaccination
$13
DHPP
$10
Bordetella (Kennel Cough)
$10
Heartworm Test
$15
Iverhart Max 6 Pack Heartworm Preventative
6-12lbs - $20
12-25lbs - $25
25-50lbs - $30
50-100lbs - $35
Broad-Spectrum Dewormer
Less than 60lbs - $8
more than 60lbs - $15
*two doses given two weeks apart
Vectra 3D for Fleas and Ticks
$10
Microchip (HomeAgain)
$12 ($10.99 registration optional)
Supplemental NSAID Pain Medication
$10
Nexgard
$16 Single, $46 3-pack
Service Pricing for Cats
Male Cats
$35
Female Cats
$45
Feral Cats (includes spay/neuter, 3 year rabies, FVRC, ear mite treatment, ear tip)
$25
Rabies (1 year)
$10
Rabies (3 year) *Bring proof of last vaccination
$13
FVRCP
$10
FIV/Felv Test (not available to feral cats)
$19
Broad-Spectrum Dewormer (oral for pets, injection for feral cats)
$6
Crossblock II Flea Treatment
$5
Revolution for Fleas, Roundworms, Earmites
$10
Microchip (HomeAgain)
$12 ($10.99 registration optional)
Other Services
$10 - Antibiotics (when prescribed)
$10 - E-collar
$5 - Bitter Apple Spray
$3 - Nail Trim
Pet Food Bank
Community Action Partnership of Central Illinois and Second Chance for Pets have joined together to assist families with their pet's needs. DeWitt County Food Pantry will have both dry and canned dog and cat foods available every Tuesday 2:00 - 4:00pm and during weekly business hours as available. This is a public service available to any pet in need.
Please feel free to stop by or call ahead to make sure the pantry is open other than the specified time listed.
Dewitt County Food Pantry
45 Cedar Square
Clinton, IL 61727
(217) 935-4429
Pet Food Assistance
Second Chance for Pets assists the residents of DeWitt County with their pet's needs. If you are needing dry or canned dog and cat food, just give us a call and leave a message. One of our volunteers will return your call and get your information so we can have your pet's food delivered or arrange pick up.
In addition to providing assistance with pet food, Second Chance for Pets offers (as available):
Dog houses
Collars and leashes
Pet bedding (straw)
Kennels
Flea prevention
If you are needing help with any of these items, please contact us. We will schedule a time to have one of our volunteers meet you.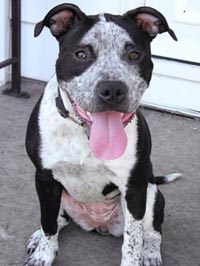 Pitbull Facts
Pit bulls are euthanized more than any other breed - only 1 in 600 pit bulls that enters an animal shelter will leave alive. Please have your pit bull or pit bull mix spayed or neutered today. By not breeding your pet pit bull or pit bull mix, you will be doing your part to help control the pit bull overpopulation problem and help keep pit bulls and mixes out of shelters and out of the hands of people who want to do harm to them.